Benjamin Yates, DMA
University of Louisiana, Lafayette
School of Music
Trombone and Low Brass Studio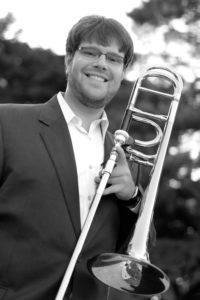 Summer 2022: Dr. Yates is excited to announce he will be joining the excellent faculty and students at Lutheran Summer Music this year!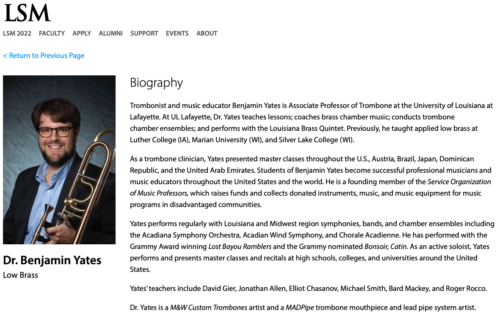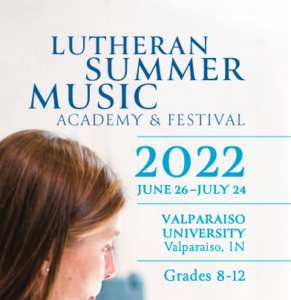 March 4-5: Guest Artist at the Luther College Brass Symposium. Performing works by Brooke Joyce with Dr. Eric High, St. Norbert College, contrabass trombone. Details released soon.
October 9, 2021: Guest Artist Recital at Luther College, Decorah, IA. Joined by Dr. Jessica Paul, piano and Dr. Michael Smith, tenor and bass trombones. Luther College Calendar Event.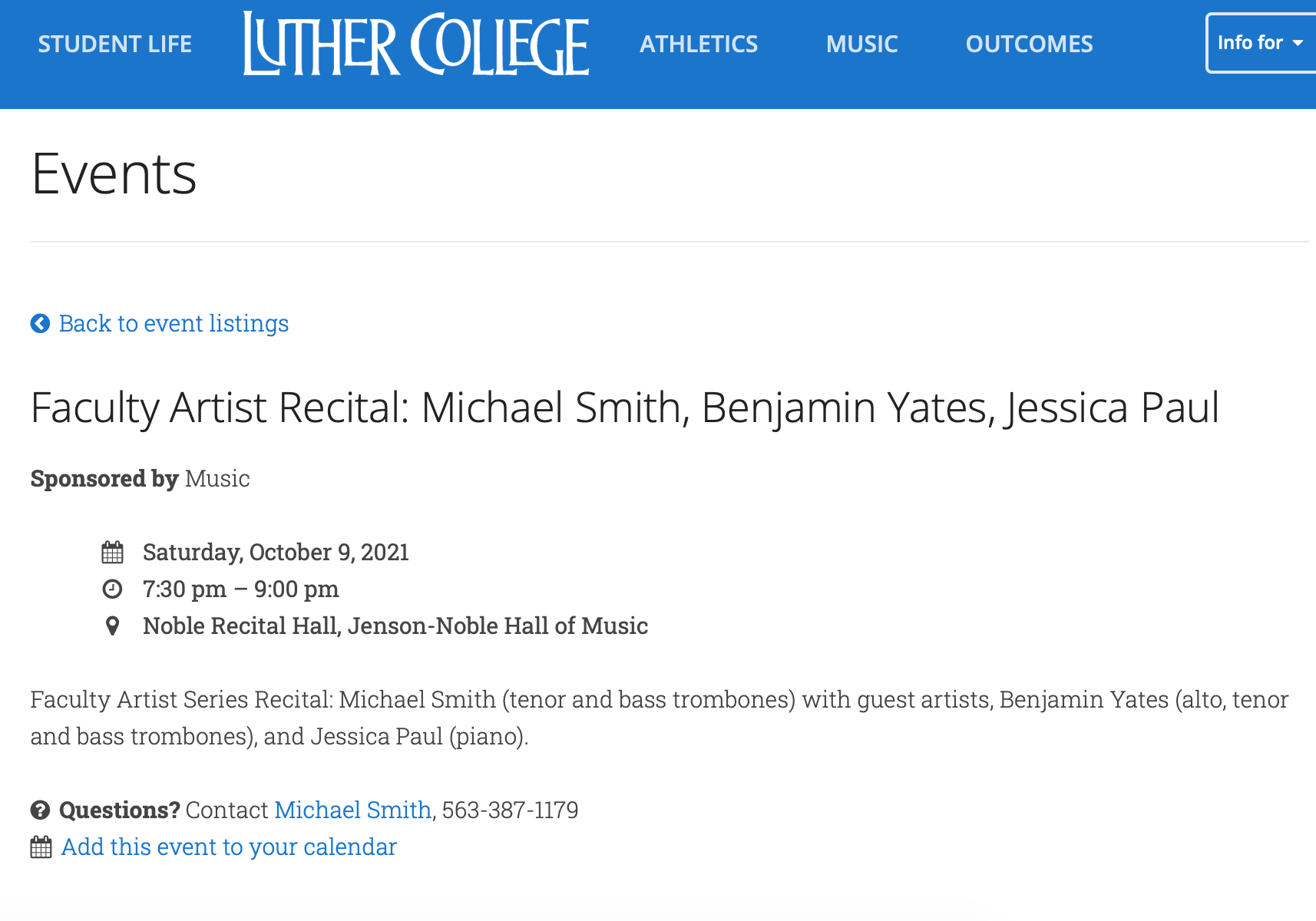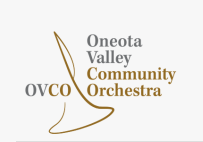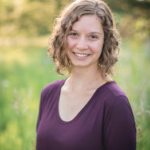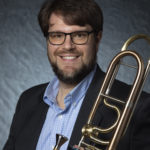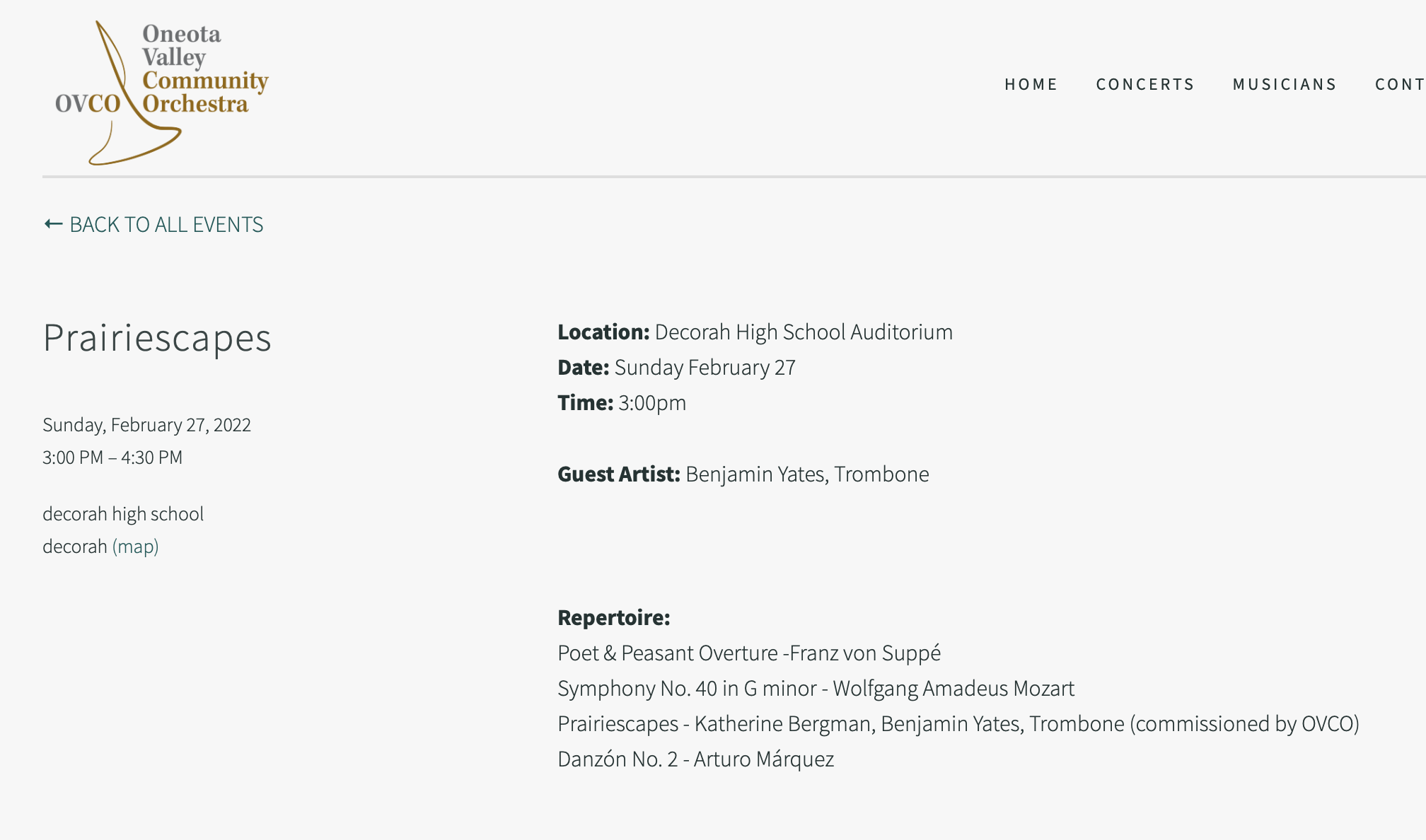 January 26-29: Asociación de Trombonists Dominicanos (Trombodomi) Festival. Details soon. Watch for recitals with Dr. Michael Smith and Dr. Tony Guzman. Watch for information about instrument donations to local community ensembles!
More information:
KATC
Daily Advent
KADN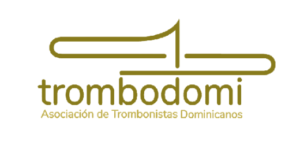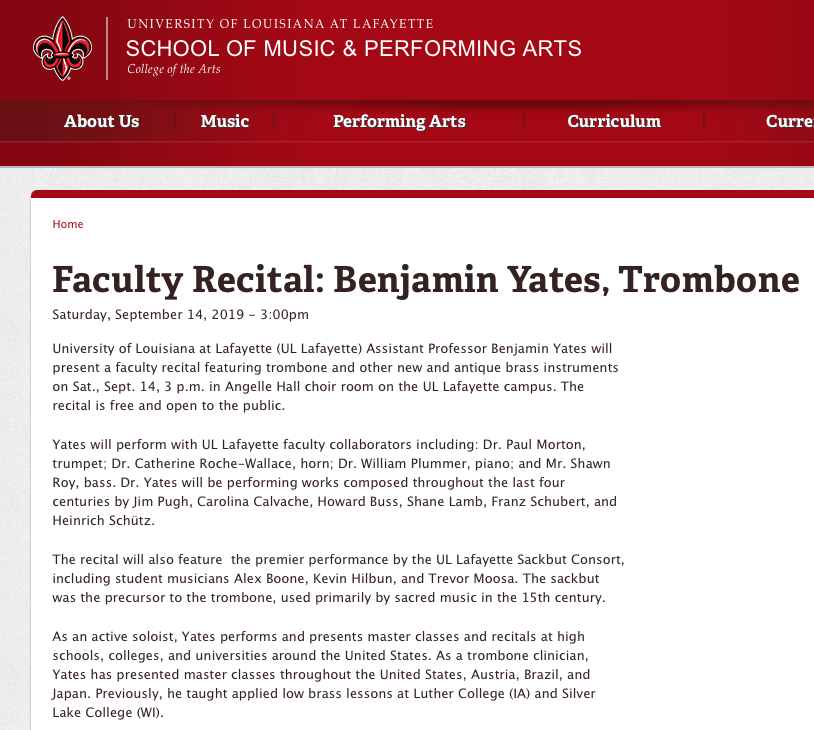 Artist Highlight with M&W Custom Trombones: check out an interview with Benjamin Yates covering topics from trombone to teaching to cooking and food!
Find the Interview Here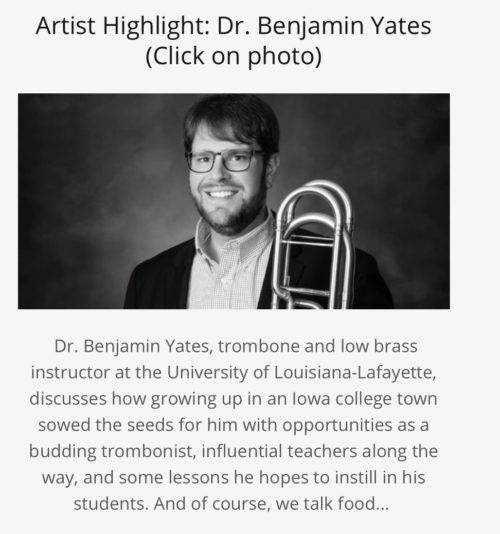 Studio
My goal as a teacher is for students to reach their maximum growth as a performer and teacher. All students are different and I want each student to find their personal sound and musical personality. Music performance and education are my way of life. Without music, my experience is incomplete. I enjoy sharing this commitment with fellow performers, audiences and students.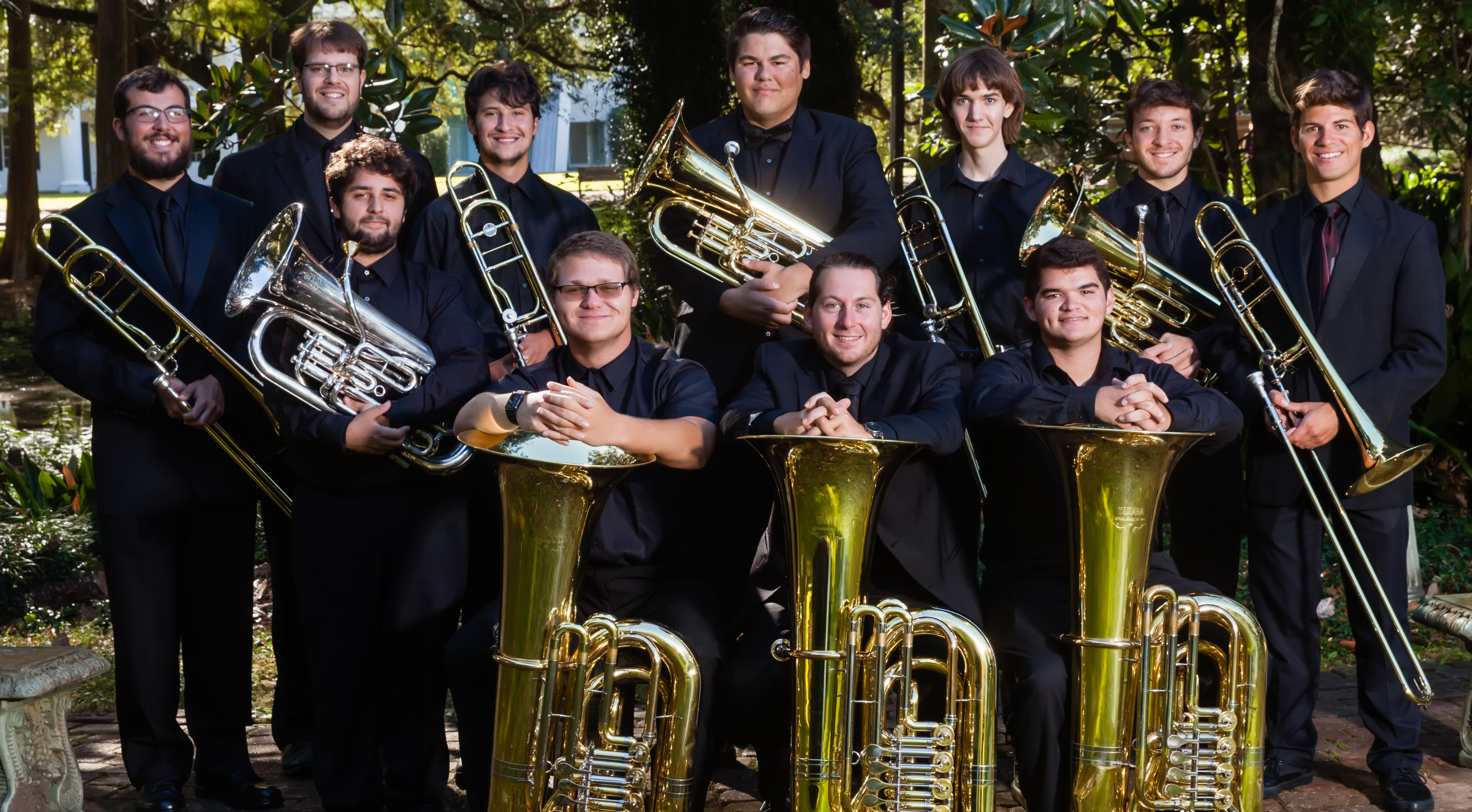 Students can find Dr. Yates' schedule by using this link to his UL Lafayette daily calendar. OR use the basic schedule at the right to select a lesson time.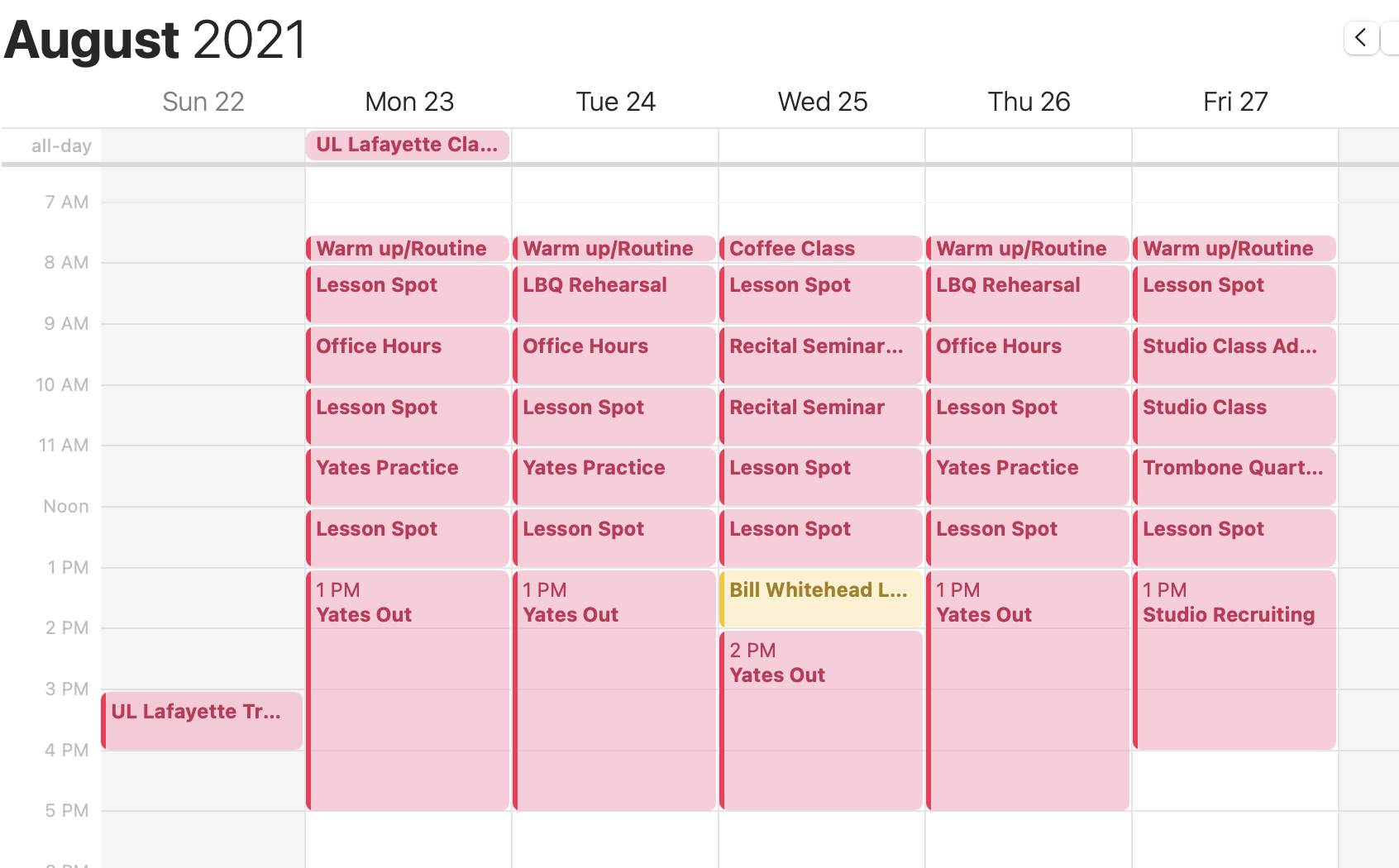 Summer Trombone Lessons 2021
How lessons work: Lessons will be in person as soon as the University of Louisiana at Lafayette is opened for the general public.
Lesson Cost
45 minute lessons- $50
60 minute lessons- $65
Payment
Payment for the month of lessons will be accepted at the first lesson of each month. Payment may be completed using Venmo @benjaminyatestrombone or PayPal paypal.me/yatestrombone.
Extras
Monthly studio class via zoom and YouTube live. Warm up sessions hosted by UL Lafayette music education majors. Listening sessions hosted by UL Lafayette graduate students.