What a great master class with Milwaukee Symphony principal trombonist Megumi Kanda! A big thanks to LSU trombone professor Hana Beloglavec for inviting the UL trombones. We had a great time working with Megumi and hearing some great trombone playing! I wanted to share some notes from the class. As I have before, I find Megumi's story very inspirational and teaching to be full of information.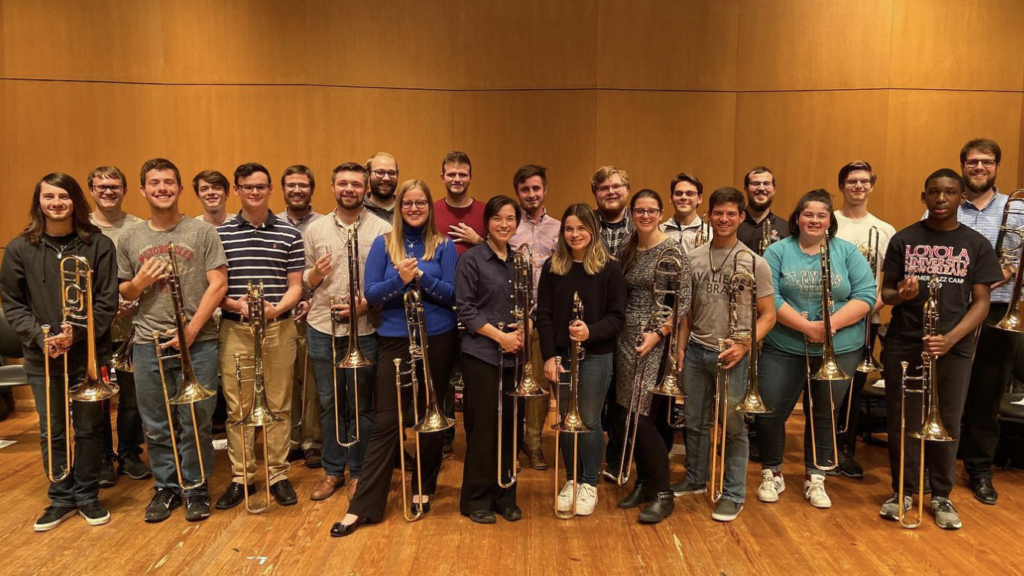 Megumi Kanda Master class
LSU
November 15, 2019
TONE PRODUCTION
Application of a flutter tongue and a free buzz can help to achieve the air support you need for success.
Pushing the lips forward instead of out helps to get a better buzz.
Slightly pushing the corners down rather than out

especially in a free buzz situation

Should never free buzz for more than five minutes in a day.

The idea of using the muscles around the lips instead of the lips to make a buzz
HIGH RANGE TIPS
motion of moving downward instead of applying pressure to the upper lip.

This works as a training wheel for the shift in octaves.

The image of a trampoline spring boarding to the upper notes
Crescendo into lower register notes

maintaining air support for those registers.

Octave lip slur exercise in Daily Routine

Spring board from lower note to higher note

Sub divide the lower note, providing direction and energy to the upper note
BREATHING TUBES…
Exercise: hands on abdomen and lower back to check the breathing. Breathing tube should help the shape: same shape with the tube out of your mouth as in. Try this at 90 degree upper body angle, 45, and upright.
LONG TONES
Use long tones daily
Remington preferred the return to "tonic" (in handout)
Sometimes the physical motion gets in the way, work to eliminate
RECOMMENDED STUDIES
Remington (but not the whole book, every day)
Marsteller (flexibility)
THOUGHTS ON PERFORMANCE ANXIETY AND OVERDOING PRACTICE
Be aware that everyone gets nervous

Find ways to control/ convert that energy

Fear or failing should not drive performance. Excitement of performing is the drive.
THOUGHTS ON THE TROMBONE WORLD
Always be nice, you never know who will be in the audience

Examples of horn teacher for 15 years back, LSU trombone prof, etc.